~ ~ They Wiggle Into Our Hearts & Lives ~ ~
(please be patient while images load...it is worth your while : ^)
My "PRINCESS" 1987,
'90 my "TRUSTY-Boy",
and my "DUTCHESS" 1979.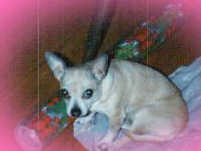 "They bark, they whine, they jump all over!
They tear up shoes and chew on chairs,
and dig holes all over the yard. Yet, they
look to us for food, shelter, companionship,
and most of all, love. They are the animals
that come into our hearts and lives to live
and romp and play. Little puppies and kittens
seem to "wiggle" and "waggle" and lick their
way into our hearts.
To read more please see my new book
"MY LIFE JOURNAL (From My Heart To Yours)"
Kids with Sheba,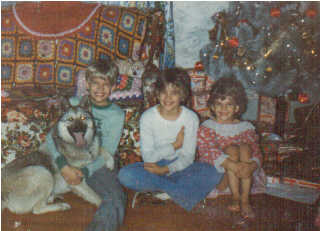 Dutchess (on pillow),
John with Trevor & Lady, and Baby
(Trusty across his lap), 1991.
Trevor and
Trusty, 1992.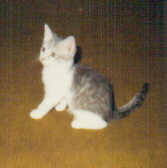 My "TEE-KITTY" watching TV-'83.
Five'lil'beggers,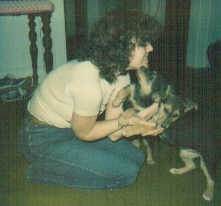 Smokey (kissing me)
and Velvet licking my fingers...1983.
& Teddy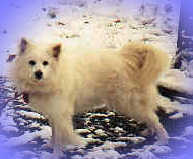 1994 in the snow.
Sara,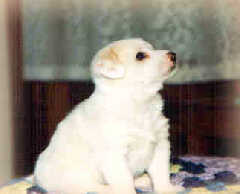 Only 4 weeks old...
and sitting pretty for me. One SMART Puppy! (12-98)
Sara in 2000, still sittin' pretty for me!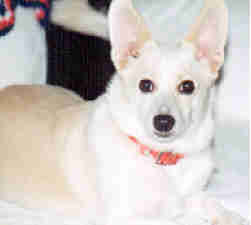 Below is Tessa, at about 8 weeks old...cute! '92
Tessa 'n' LADY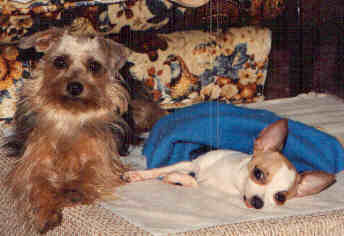 94.
Missy 'n' Joey, 1988.
Lady, 1992.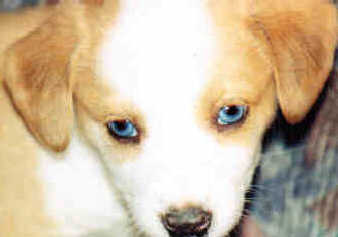 Blue, 1997.
See why we named her "blue" ? Those eyes! *S*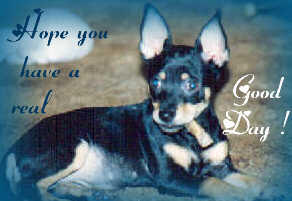 This is "Ebony"...she
looked like a small dobie, but she was a "Chihuahua"!
and Belle, the "dobie"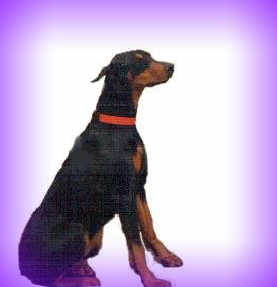 we rescued & gave to some people in Columbus.
They were going to train her to be a
"search & Rescue" Dog! *S*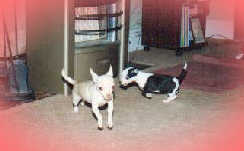 Princess & Trevor at play!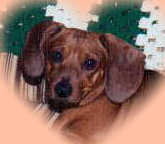 Trusty-Boy
Taken in 2000.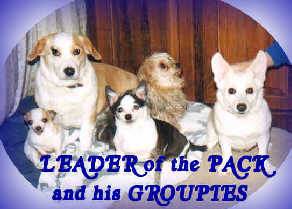 The "Leader of the pack" of course, is TREVOR!
ONE will never replace ANOTHER...but will be just
as precious in our heart, in their own way! *S*
(An update: TREVOR has since gone to Rainbow Bridge on Oct. 31, 2003. He was 17 yrs. old. LADY-GIRL went to join him in July 2004 at 14 yrs of age and TESSA left us 17 days later (of a broken heart I believe) at 11 yrs. 8 mo. old. Then this past June, 2006, TEDDY-Boy went to Rainbow Bridge too at the age just shy of his 18th birthday! I now have BLUE who will be 10 years old in Feb. and SARA, her daughter who is 10 yrs. old in Dec., JUDE who is 4 years next Feb. 29 (a LEAP YEAR puppy) and PIXIE who was be 4 yrs. old in July. I sure hope & pray I don't have any more leave me for Rainbow Bridge anytime soon!

can be found below: http://members.tripod.com/come_to_his_inn/GUESTBOOK_PAGE.html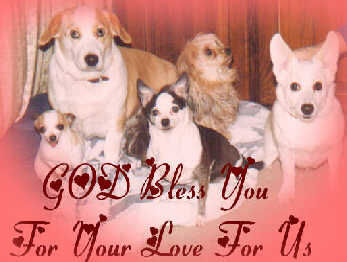 We are their
"guardian's" on earth, so let's protect them!
Updated on Mar. 29, 2009
Backgrounds and pics designed & created by KATieS-KREatiONS
IOWA-U. S. A.