Here is a pic of Johnny and the doggies in Connecticut back in 1991. These three little guys are all "gone to Rainbow Bridge" now! BABY (left of John) died in 2002 (he was my daughter's doggie). Then we had to put TREVOR to sleep Oct. 31, 2003 because he had cancer and it was getting really bad. He had it for over a year and a half and finally we just had to let him go to Rainbow Bridge. He was over 16 years when he left us. He is the little black'n' white one Johnny is holding
(here he is chasing PRINCESS who died of pneumonia in 1990, aged 4 and 1/2 yrs.) and the little brown'n'white one is LADY-GIRL
and she died this past July as most my friends know. She was just a little over 14 years old. Then 17 days later TESSA (not pictured in this one but below with LADY) died and I believe it was from a broken heart because TESSA loved LADY so very much and after LADY died poor little TESSA just gave up and didn't eat much and then just went VERY quickly. She was alive and we drove her to the vet about four minutes up the road and she was gone! He said it may have been a heart attack. She was only 11 years and 8 months old! I have a poem for my LADY-GIRL. I will put in here for you to read. I do hope you like all these pics of my little doggies. I have two new doggies added to the family since
TREVOR,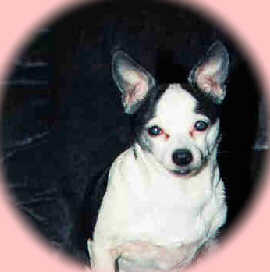 TESSA & LADY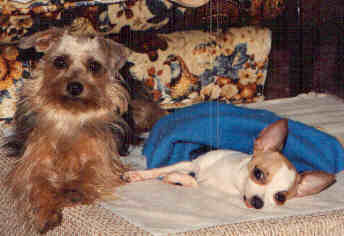 have all
left us now! We still have SARA
and BLUE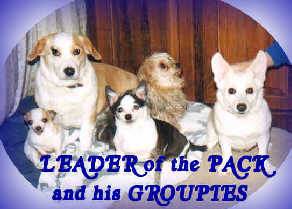 along with JUDE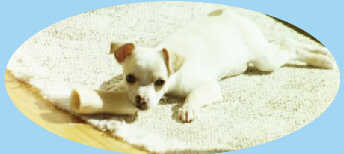 and now my little PIXIE-BOO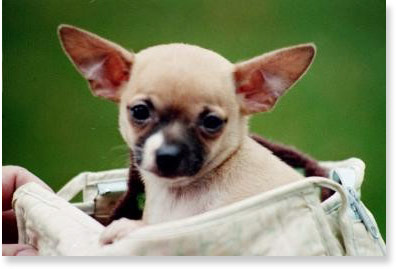 (she fits in my make up bag)! Though they will never replace TREVOR, LADY and TESSA, they help heal the heart and fill a void that is there! Below you will find the letter I wrote to my LADY-GIRL when she died and I hope that you all enjoy it and love your pets while they are with you, for the time is too short til they are gone!

My little "LADY-GIRL"


When GOD gave you to me back in 1990 I was so happy because you were to take the place of my sweet "PRINCESS". But as it so happened over the years, you didn't take the place of her but instead you took your own place in my heart and from you I have learned much. The tenacity, strength, patience, and loyalty you gave to me over the years was very good for me and the love you showered in my life was so very precious and for that my "LADY- GIRL", I will always be so thankful to you. This morning at about 6:40 a.m. your little heart finally gave out and your small sweet Spirit of breath went back to GOD, which gave it to you. You left me to cry and grieve for you but with such sweet memories of our 14 years and 26 days of your life in mine to keep in a little Golden chest of memories in the recesses of my mind and heart. You were so faithful and loyal in your love to me and in your patience with me over the years and now I have learned that with your teachings of love to me, that in the same manner I am to serve my GOD for HE told me this morning to "Learn from her". And now I know what HE meant, for to think upon your life with me gives me nothing but joy and pleasure and for that my sweet "LADY-GIRL", I am eternally thankful to you.

I love you and miss you so very much but I know that you are now with TREVOR, and TRUSTY, and PRINCESS, and DUTCHESS, and even PONCHO and SHEBA, DAUXIE, EBONY, BABY, CANDY and BUNNY are there too greeting you at the Rainbow Bridge in the fields of lush green and bubbling brooks running through gardens of flowers.

And remember LADY, don't take the biggest bone there, even though you now have all your teeth again, sweetheart, cause you are still my littlest one there! So til GOD calls me home sometime in the near future, you wait for me there along with the others and when you hear my footstep fall upon the other side of Rainbow Bridge, you can yip to the others and all of you can come running into my lonely arms that have missed holding you for so very long. I love all of you and you be good and tell the others I said hello and soon we shall meet again and what a wonderful time we shall share in the King's pastures of Eden and forever we shall be together.. love, love, love...your earthly Mommy.

July 1, 2004. 6:40 am. My little LADY has finally gone home to the Rainbow Bridge where she has met up with all of our beloved pets that have gone before us but whom we will surely see again.