http://www.wildlifewarriors.org.au/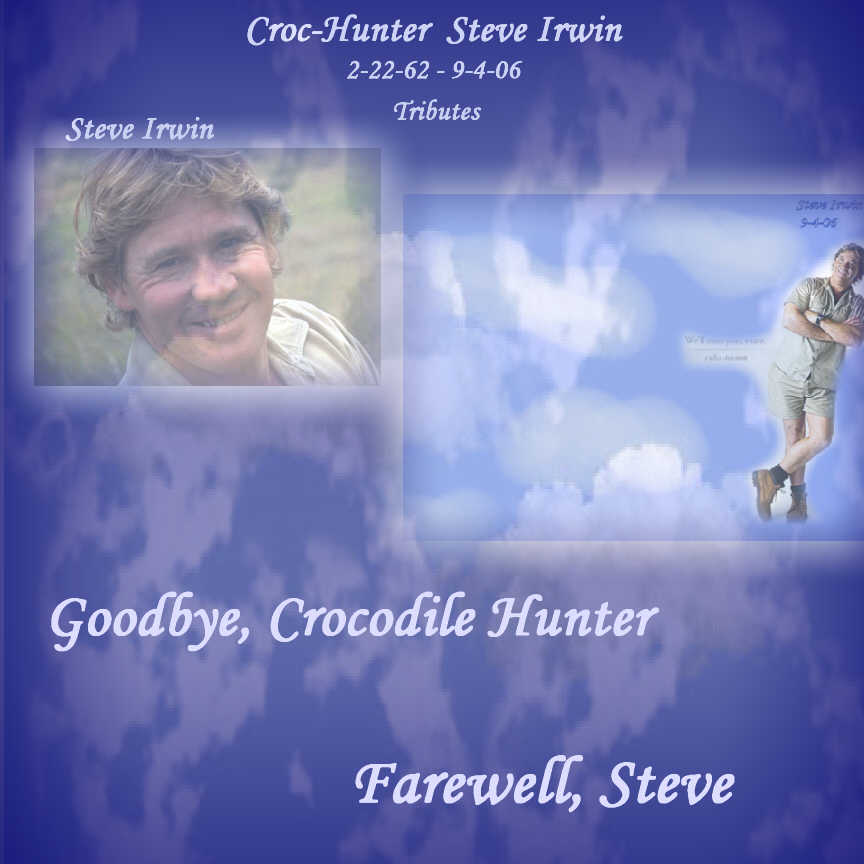 ~ GOODBYE CROCODILE HUNTER ~
1. Wasn't he a beauty
Crikey what a gem
A dinkum Aussie treasure
A khaki larrikin
Throwin' it all out there
Doin' what he'd do
You'd better duck for cover
Cos Steve is comin' through
2. Crazy as a cut snake
Bold as any man
He'd dive onto a crocodile
Hold spiders in his hand
Dodge a deadly brown snake
With big-eyed, "Holy
Smoke!"
You could love him
You could loathe him
But you couldn't miss the bloke

CHORUS
And wasn't he a beauty
Crikey what a gem
A dinkum Aussie treasure
A khaki larrikin
Throwin' it all out there
With his heart upon his sleeve
Goodbye Crocodile Hunter
Farewell Steve
3. He loved those deadly creatures
He gave the bush his all
The nastier the moment
The more he had a ball
1000 miles a minute
A showman to the core
He'd take a bit of bark off
And keep comin' back for more...
CHORUS
And wasn't he a beauty
Crikey what a gem
A dinkum Aussie treasure
A khaki larrikin
Throwin' it all out there
With his heart upon his sleeve
Goodbye Crocodile Hunter
Farewell Steve
Goodbye Crocodile Hunter
Farewell Steve
Farewell Steve
Words & Music: Copy-write Colin Buchanan
listen to the tribute song for Steve below:
http://mp3.news.com.au/bcm/goodbyecrocodilehuntercolinbuchanan160.mp3

Quotes from Steve Irwin:
"Crikey means gee whiz, wow!"
"My dad taught me from my youngest childhood memories through these connections with Aboriginal and tribal people that you must always protect people's sacred status, regardless of the past."
"No, snakes are no problem. I'd go to any country, anywhere, any snakes, not a problem."
"When I talk to the camera, mate, it's not like I'm talking to the camera, I'm talking to you because I want to whip you around and plunk you right there with me."


MILESTONES in STEVE IRWIN'S life

FOR thousands he became quite literally a force of nature - driving himself on his mission as a wildlife warrior. This are some of the milestones in the life of the man Australia and the world took to its heart.
February 22, 1962: Stephen Robert Irwin born in Essendon, Victoria, to Lyn and Bob Irwin. (A True-BlueAussie)
1970: The Irwin family moves to Queensland to start a small reptile park at Beerwah, on the Sunshine Coast.
1991: Bob and Lyn Irwin retire, handing control of Australia Zoo to their son.
June 1992: Steve Irwin marries Terri Raines from Oregon, USA.
1992: Irwin and television producer John Stainton make the first documentary, The Crocodile Hunter in 1992, using footage from Irwin's crocodile-trapping honeymoon. Over the next three years, 10 one-hour episodes were made and on television screens all over the world.
July 24, 1998: Irwin's daughter Bindi Sue Irwin was born. Her name is derived from her father's favorourite croc BINDI and his dog SUI.
2002: Irwin's first feature film, The Crocodile Hunter: Collision Course, was released. In general, reviews of the film were negative. (I have one and it is a really good movie)!
December 1, 2003: Irwin has a son, Robert (Bob) Clarence Irwin.
January 2004: Irwin controversially carries his infant son, Bob, in one arm while using the other hand to feed a chicken carcass to a crocodile at Australia Zoo. Irwin claimed his son was never in danger, and consistently refused to apologise. (If you get to see this footage you will notice that at a different angle he was FAR away from the crocodile and you will also notice that the croc is NOT looking at the baby or him, but at the chicken it is being fed!)
June 2004: Irwin again was the subject of controversy over allegations he disturbed whales, seals and penguins while filming a documentary in Antarctica. (Probably PETA. They are jerks!)
September 4, 2006: Irwin dies after being struck in the chest by a stingray barb while filming an underwater documentary in the Great Barrier Reef, off the Low Isles near Port Douglas, in far north Queensland.

ARTICLES FROM SYDNEY NEWSPAPER
Terri and children: Our love and prayers are with you and the feelings you now feel are to stay for such a long time, for Steve was such a wonderful husband and Father and friend to be remembered for always. We shall always love & remember him too. Keep his dream alive. GOD must have needed someone to love and care for the animals up there for HE took the best that earth had to give. Prayers and Blessings. Katie & family
Beautiful memorial for Steve! It won't be the same without him in all the future telecasts because there will be no "Croc-hunter"! But in our hearts he will always be alive and well and saying with that little quirky grin of his: "CRIKEY! Look at this little beauty!" GOD rest your soul Steve-O! Our love to you and your family. Katie & John Sansone
Just leave little Bindi alone for gosh sake! She is Steve's daughter and is just like her Daddy! She will be what she will be and will do what she will do! She was spectacular in her farewell speech for her Daddy and it was beautiful and YES she more than likely KNOWS what DEATH is for she has seen many animals DIE too in her short life! She did Steve-O proud and I love the child for her courage! Go Bindi! GOD keep her in YOUR arms of love always. Katie & family
Little Bindi is a well-rounded child and the part of home schooling is good! I home-schooled my youngest daughter and it was much better! Bindi's speech for her Daddy was very well spoken and written most likely by her (maybe Mum helped a bit). But I think the best thing to do would be for Terri to take Bindi, little Bob and leave for a few months rest and alone-time! Leave Wes and John in charge of the Zoo (they all apparently helped Steve very closely) and know the ins and outs of it! Give Terri a break and don't keep them in the spotlight! Let them rest, think, remember, and love the memories they have of Steve for now! I think Terri needs a long break. She may be strong as John says, but she is a "woman who lost her beloved husband" and needs time to recoup! I do know this from experience! Love you Steve! Love you Terri and children! May all of you REST in PEACE from the press and world! Katie
To the man above my post, I believe that you must be a very depressed person! You are not happy enough with your own mundane life so you try to drag down a gentle person and a truly loving individual such as Steve Irwin! Even his little daughter! What crass! Why not just stick your head in the sand and let the world pass you by!? Just keep your mouth off of more kinder people than yourself! !:( mad"
I think that the man above my post must be a truly sad and depressed person who is not happy with his life in the least! He has to be a person of such makeup, if he has to belittle and demean someone as good and as kind as Steve was and now his little Bindi too! This man would not be missed but by a few no doubt, not like the MILLIONS who mourn the death of Steve Irwin! People like him should keep their own thoughts that are of a hateful manner to themselves! We do not need him to share his nasty thoughts with us! GOD bless you Steve-O! Katie & family
You know that Steve has been gone to his reward in Heaven for nearly 20 days now and there hasn't been ONE day that I have not CRIED because I heard something about him, or saw pics of him and his family and then the Memorial was so very touching! And then I saw the song about him "Goodbye Crocodile Hunter". And I could just see him have a long snake by the tail and it would strike at him and he would jump back and say: "My! Aren't we cranky!" Or when he would have one of those ugly little lizards whose eyes turn every which way and say: "CRIKEY! Isn't she a little beauty?" Or "She is a gorgeous little Shelia!" He lived so unselfishly for the world to bring the animal kingdom right into our homes and allow us to get to see them through his eyes of love! He had such a tender heart towards every living creature and deep in my heart I wonder why it could not have been one of these evil terrorists of the world (Ben laden and his side-kick, or the N. Korean who wants to blow us all to Kingdom come, or the crazy Iranian jerk who claims to be president of that country, or even Chavez) or any one of these crazies who wants to rule and kill everyone?! Why did it have to be Steve? Such a kind and gentle-natured individual. Over and over I have asked that question and the only answer I have, is that GOD must have needed the world's best animal keeper (since Noah) to come to Rainbow Bridge and take care of all the animals. So we had no choice but to let Steve Irwin go and answer that call. I will always miss him and love that gentle man and thank GOD that I got to have him in my life for about 13 years! Love you Steve-O
On coping : She said Bindi was coping remarkably well, but Robert was having problems coping: "I told him what happened. He asked me a second time. He held his little piggy and he looked out the window for half an hour and it was the first time he was quiet on the entire trip to Tasmania.

"He (once) said 'I wish I could get sick so I could go to Heaven with daddy.' That's so hard."

She said Bindi had had nice dreams about her father, and was trying to help her younger brother. "She dreamt that she saw daddy under the lychee tree in our yard and she said he was hugging me and I said to him, 'daddy will you ever forget me?' and he said, 'No, I will never leave you'."

She said Bindi had a great relationship with her father: "She said to me once, 'I don't want to hurt your feelings, but I think I love daddy more than you'."


Pictures and information taken from Australian newspaper, the Daily Telegraph which can be found at this URL:
http://www.news.com.au/dailytelegraph/
and gift from the Discovery channel found here: http://animal.discovery.com/ Made public to and for all.
Graphics by FREE-GRAPHICS on the web. Background by KATie's KREatiON'S
September 28-29, 2006