This page is written as
a memorial for my Mother.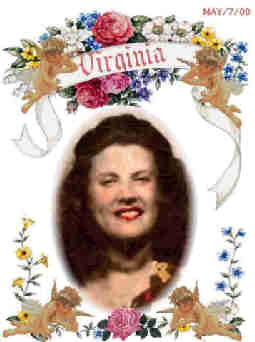 January 25, 1913--November 11, 1989
~Today she died~
Today she died....
Making this her last day on earth and her first in Eternity.
Her passing went unnoticed by those who were never touched by her life.
To those who knew her and Loved her, gone is a wife, a Mother and a friend.
Whose ability to love and comfort them is now gone forever.
In her life she left a legacy of smiles, laughter, and kind words.
And a family grieves for the one who gave them their greatest strength.
Her existence was measured in highs and lows, triumphs and failures.
All of these having finished....her spirit is no longer burdened.
Though her love will always remain, all she leaves are memories.
Her struggle is over, she is finally free.
Author Unknown


















An excerpt taken from my new book
"MY LIFE JOURNAL (From My Heart To Yours).
She has been gone so many years now.
She was born on Jan. 25, 1913, in Elliot Co., Ky.
She was first married at 15 years of age.
She bore and raised seven, out of eight children.
She worked at the Henry Clay Hotel from early
in the morning, til late in the night...and STILL
took care of her children and of her home. It
was only a three room house...a kitchen, a
living-room/bedroom combo; and one bedroom
for all of the kids (except me, I slept in her bed).
We didn't have a bathroom in the house.
There was also a small room in the back part of
the house; that was the father's radio room.
I love you my darling, Mother-mine; forever in my heart.
Happy 97th Birthday this past January 25th, Mama!
Enjoy and if you wish to read more you may purchase my book online from



















































Updated Nov. 11, 2005
Updated April 5, 2010

















IOWA--U. S. A.