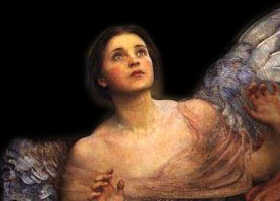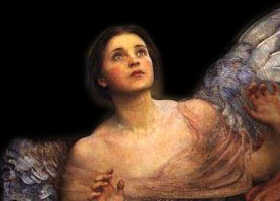 Feel like you're just "CRIPPLING along" in your spiritual life? Then listen up!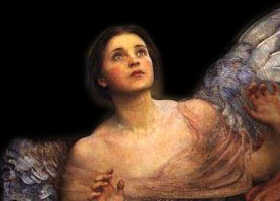 I think we find the kingdom within by getting rid of the kingdom without. As long as sin has a hold on us (no matter how small it is) we struggle within ourselves with that "sin" and it takes up all our energy and space so God's kingdom stays hidden by all the smoke screens that our flesh throws our way to keep our head spinning. I know that is true because it happens to me all the time. I am learning to deal with my sins one at a time and sometimes when you conquer one of them, a whole lot of others go away with it, they are all one in the same, in the same family and leave when you kick out the head honcho. I see why God says to kill the strong man in your house, then all his little friends have to move out with him, because he was their leader and without him they can't function. After all, they aren't known to have any brains anyway, to think on their own, just follow a leader, that's all. Just listen to your thought's and you will figure out who your strong man is and you will know how to rid yourself of him. You know them better that anyone in this whole world, they deal with you intimately everyday and know every little button to push to get you to fulfill their desires or needs in your flesh. If we would just listen to ourselves, we would know exactly what is wrong with us and how to kill it in our lives. Sin isn't that mysterious, just sneaky and as long as it can keep you baffled as to why you do what you do or react how you react, it will run your daily life as long as you let it. That's why it is so frustrating when God tells us it's your choice to be anyway you want to be, but it's like there is someone else involved in our thoughts that makes all the decisions for us. Well guess who it is, it's us letting them have control over our choices and we just sit there and whine about how hard sin is and what power the devil has over us, HOG WASH. He was already defeated a long time ago, but he is a good liar and we get taken all the time by his lies. Jesus said He killed sin and destroyed it on the cross, He either told the truth or he is the biggest liar ever born, why do we still sin and claim His name if it no longer exist for us? It's by our choice and nothing more, all the blame falls right in our laps and we will be held responsible for it when we stand before Christ and tell him he didn't do the job right and we couldn't trust what he said, it was all a farce! What He did on Calvary wasn't sufficient to deliver us from sin's hold and it's all His fault! You can believe me, we will all stand there before Jesus and give an account of all our actions, whether good or bad as He said so himself. So people can quit passing the buck and swallow the whole lump, cause it is ours alone to chew on, no one else's. So if you can't defeat the sins in your life, just tell Jesus He wasn't good enough to make the grade, after all He claimed to be the deliverer and our Savior, but if we can't do it, blame Him. J.W.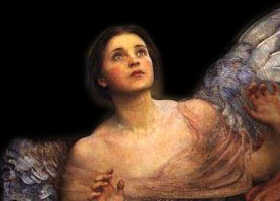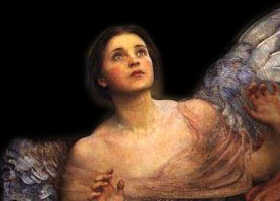 When ever he has me write in that manner it is not to pick at you but instruction, to make you aware that you have enemies within that you don't see, but Jesus sees everything..they are letters of instruction that's meant for your good not your harm, but when they always get you on the defensive when you receive them you just lost sight of the whole matter of the letter of instruction for they turned the light being shown on them and turned it around back on you while you do the dance and worry about what another thinks you were saying and they set back in ease still safe and secure in the little cubby hole masked under all those what if's or how can that be? of the questions they impose in your mind all the time and then as time pass's you then voice their opinion of all those little what if's or how can that be about others..its their thoughts and their speech its not yours its their way of thinking and in all their ways of thinking exist transgression..and it is all these types of transgressions that is rooted in the thought and speech of his house is what he is going to judge to destroy this nature in them because they walk crooked they think crooked they talk crooked because they have crooked teacher within instructing them on their behavior in their manner of speech and thinking. His whole house is over ran by these filthy things..way back there in Eden when man chose sin, along with it came them and we became the mingled seed with them and their kind and the strength of their flesh then became our curse and its strength exist in the ignorance to the devices of its ways..and all along they just set back there in ease in the kings house and spoil all his goods and tarnish all his treasures while the true owners of his house set in poverty and see nothing while they go about destroying the kings house..all of mankind has them. there is no escaping that fact that was chosen back in Eden to go under the curse of mans understanding..we are their eternal life, they were cursed with death but have not yet got to taste death because they live off the life of each generation coming forth they are not made to consume the meat and drink at their own table therefore death does not yet take hold on them because they consume the meat and drink of our tables and bring us in to the poverty of ignorance while they live well from off our inheritance that was give to us by the great king himself the son of god..from generation to generation they are given immortality by the brief little life spans of each human born here on good old planet earth..but what's coming is we his soldiers are going to make them dine from their own tables eat their own maggot meat and draw water from their own wells without water and cause them to turn within to their own store of resources and they shall die for all their resources reside in death..for as sin brings death to us it as well will bring death to them...were going to make them gag on their own rotting dead bodies..for don't you know there is no food value whatsover in a dead corpses..we, his soldiers, are going to cause them to gag on their own resources of death..we are going to destroy them from the house of or father and they will be no more..so when he has me write letters of instruction pay attention to what is written and when you feel some little touching thing rise up about it then recognize there's one of them rearing their ugly little heads, that's those guards that guard you from receiving in order to keep their good thing going in us and holding on to the longevity of their own life on this earth while they waste the humans life in exchange..they are filthy vile things in our gods sight and when they inhabit us we are covered in their filthiness also..and no blood of Jesus can cover that kind of vile filth for they are the cursed of the Lord and all those who walk with them by giving them free room and board will come under their same judgment as well..and that is the way the cookie crumbles, like it or not but its the facts and there ain't no changing that..no sin of any type will inhabit our Fathers house and for every sin, there is a demon attached to it because they are the children of the cursed..cursed by whom? By God..they are the children of his wrath...so you see its very important to clean out your house for when the war begins, the laws of Gods judgment against sin is being activated and coming forth and is going to enter into every house and set that house a blaze because of all those hidden vipers that exist in those houses..for every house is going to be burnt to the ground in order to destroy from his house..burn it down destroy it all and we will build anew..well we just gave you more information on their workings so forget it not and apply it to your life and you go on guard against those guards on you and one by one destroy them don't let them tell you what to think in all those what if's and why's about another..for the only business you are to attend is that of your own and in that you will get great sight.. well got to go got much to do. for no correction is either pleasurable nor fun but as time goes on and we become trained for his correction as see it as a good thing in our life then with such thankfulness we receive it from him and then begin applying it to our own life and walk with him and you really come to the place in him that you enjoy his instruction on his insight into our lives for by past experience you have seen great growth come by it into your daily live into your thoughts and into your speech..I greatly value his correction for me for that was the only way I got the sight of his understanding and by it I therefore order the structure of my life in him..so always count it a blessing sweetheart...because he loves you enough to correct you in wrong thoughts, speech, and ways..He loves us and he's just doing as we seek him for..."give me sight"! T.H.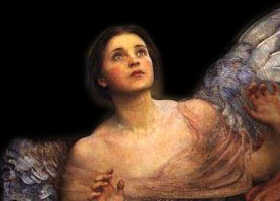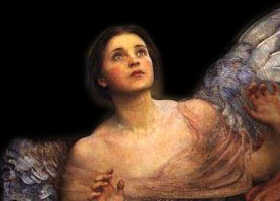 THE WAR THAT WE ARE ALL GOING TO FIGHT IN HASN'T EVEN STARTED YET. LAST MINUTE PREPARATIONS BEFORE THE BLACK NIGHT FALLS UPON ALL MANKIND AND ALL SIGHT WILL BE TAKEN AWAY JESUS SAID..ALL SIGHT..WE ARE ALL GOING INTO THAT MOTHER OF ALL WARS WITH WHAT WE ALL KNOW UNDERSTAND AT THAT TIME..NO MORE NO LESS..WITH THE SIGHT EACH HAS IN HIS UNDERSTANDING IS THE OIL THAT WILL LIGHT THE ONLY LAMPS THAT WILL EXIST IN THIS BLACK NIGHT WORLD WHERE ALL MANNER OF EVIL THINGS WILL RULE OVER THIS BLACK NIGHT OF ALL MANKIND. WE ARE GOING IN WITH ONLY WHAT WE HAVE IN OUR LAMPS AND ITS GOING TO BE A 12 HOUR WATCH. AND HE TOLD ME YOU DO WHAT EVER IT TAKES BUT YOU MUST MAKE IT THROUGH THE NIGHT! TWO BATTLES ON TWO FRONTS WILL BE GOING ON WHEN THE NIGHT FALLS UPON US. ALL WILL BE MADE TO FIGHT IN THAT WAR IN ONE FORM OR THE OTHER. WITH LIT LAMPS OR LAMPS WITH NOT ENOUGH OIL TO MAKE IT THROUGH THE WATCH.. SIGN AFTER SIGN KEEPS COMING FORTH.. BLACK..BLACK CLOUDS WITH ROLLING THUNDER.. SPIRITUAL ONES AM I HEARING. THEY ARE QUITE AWESOME SOUNDING. AND BLOOD DRENCHED ZION HAS HE SHOWN ME. ZION WILL NOT MAKE IT THROUGH WITHOUT A PRICE BEING PAID. ZION WON'T EVEN HAVE THE PRICE OF A TURTLE DOVE TO REDEEM HER FROM HER SINS..EVEN THE POOREST OF THE POOR COULD PAY THE PRICE OF A TURTLE DOVE. BUT ZION WON'T EVEN HAVE THAT PRICE. HES BRINGING HIS HOUSE TO UTTER RUIN BECAUSE OF HER SINS. NO MATTER HOW SMALL THEY ARE ALL SINS IN HIS HOUSE ARE MARKED FOR THE GREAT SLAUGHTER THAT GOD IS BRINGING UPON ALL OF HIS HOUSE. ZION IS DESTINED FOR UTTER DESTRUCTION. I SAW HER IN ALL HER FILTHY POLLUTION DRENCHED IN HER OWN BLOOD THE FILTH OF HER OWN SINS WAS SHE DYING IN. ZION WON'T HAVE THE PRICE OF REDEMPTION. I SAW HER THERE. THERE IS WAY NO WAY OUT FOR HER. SHE HAD NO PRICE TO GIVE. ALL SHE HAD WAS HER SINS AND DEATH HAD HOLD ON HER AND THE LAW DEMANDED A JUST PAYMENT FOR HER SINS. AND THE DESTRUCTION OF HER OWN DEATH WAS HER JUDGMENT SET! SOMEONE HAS TO DIE FOR ZION. ANOTHER HAS TO BECOME HER PLAGUES FOR HER. ANOTHER HAS TO DRINK HER CUP OF DEATH WHICH IS GODS FINAL WRATH. SOMEONE HAS TO DIE FOR ZION FOR SHE IS NOT COMING OUT OF THIS GREAT SACRIFICE THAT IS GOING TO BE MADE. FOR SHE HAS NOT ENOUGH OIL IN HER LAMP. SHES GOING TO BE HIT BY A FORCE SHE CAN'T EVEN SEE OR UNDER- STAND..ALL OF ZION IS HEADED FOR UTTER DESTRUCTION. ALL OF ZION AND WE ARE A PART OF ZION! T.H.